Best HR Mobile App for HR professionals in India. Mobile phones have become a mini office for many people due to its advanced features and ease of use. Notification for all important meetings or important work, etc, are all fed on our mobile phones. The emerging requirements and technology has made the HR system to undergo a change. Apart from the different HR Software, mobile app development company in Noida are getting into business of HR mobile apps to make the task easy.
The burden of work and responsibilities have led to the emergence of mobile apps to manage the workload. The mobile app development company in Delhi designs and develops HR apps to increase the employee productivity, rationalize tasks and boost efficiency. It is beneficial for both the employee, the employer and the HR department. From attendance tracking to payroll management, etc, mobile HR apps are benefiting teams with flexibility and efficient work process.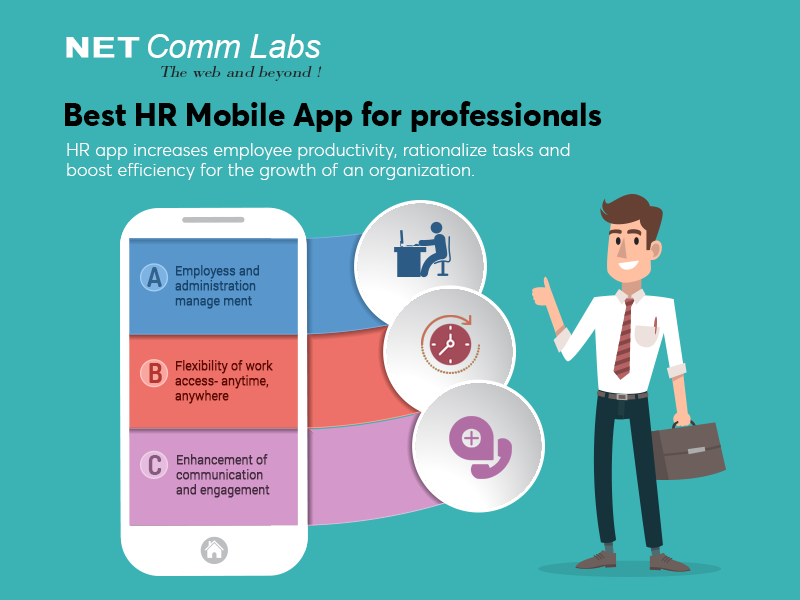 A new generation of Mobile app development and designing company in Noida are developing innovative internal mobile apps to incorporate them into company's daily tasks.
Mobile app development company in Delhi, Netcomm Labs provides the best HR mobile app through Officenet, which provides innovation and simplicity both served with the latest tools to manage, share and publish information across the organization.
To process core HR tasks like scheduling interviews, viewing accounts, attendance, leave requests, update policies, calculate payroll, etc., it is beneficial to have the best HR mobile apps for HR professionals. Netcomm labs, mobile app development company in Delhi, Noida, provides cloud based HR solutions containing different HR app features like Leave and Attendance, Recruitment and On Boarding, Travel Management, HRMS and HR Analytics, Performance Management, Expense Management, Training management Solution, Payroll Solution, Compensation and Benefits and Employee Self Service.
Mobile apps are weaving new opportunities by taking over the HR Technology. Mobile app development company in Noida are building the Best HR Mobile App for HR professionals in India that bring efficiency to their work and help them manage employees and the administration. It is written everywhere that automating HR process increases efficiency and productivity, well the case is no different when it comes to HR apps, because HR apps increases creativity and productivity of an individual. Gone are the days when HR did manual work and maintained large files.
The communication and engagement is enhanced through HR Apps. To stay updated in the digital market HR must apply innovative techniques to reflect the employee needs. This maintains a clear communication between the employees and the organization. HR apps lets employee engage in maintaining or updating their personal details as well, eliminating any chance of confusion.
Having an HR app means access to work from anywhere, anytime. This in return gives flexibility of work not only to the HR department but also to the employees. HR Mobile App Development Delhi ceases the necessity of a desktop or a laptop in case of an important task or management of any details. The app can also be utilized to track the data of one's own performance and upgrade skills accordingly.