It is clear that nowadays mobile apps have become an important part of our life. A phone without an app is equal to food without ingredients. The definition of retail has changed, now it is no more the brick and mortar concept.  Successful Retail Business Apps are playing a major role in shaping the digital future of retails, that is why the mobile app development company in Delhi is pitching for retail apps to fulfill the demands and change the way of shopping.
Many studies have been conducted to observe the nature of smartphone users and apps for the recent years. According to a report published by Foxconn and Mediatek funded apps distribution firm Momagic, Mobile applications in the category of shopping, video and games are expected to see 60 percent more users by 2019.
"Shopping, Video and Games Categories of Apps in India are going through an explosive growth as data prices have crashed and data speeds have increased considerably in the last few quarters. We will continue to see this growth in 2019 with a jump of 60 per cent users in this segment according to our study," Momagic Technologies Founder and CEO Arun Gupta told PTI.
From the above statement we are aware that the demand for mobile app is increasing at a massive rate with the passing of time. More and more users are turning up to the apps for ease of use and to get their work done. With such a huge popularity and wider consumer base, retail market has started opting for mobile apps to increase revenue for business. Mobile app development company in Noida builds propelling and interactive apps using cutting edge tools and technologies.
More than half of the customers consider mobile apps convenient and easy to use for retail business. The trick is that because apps are made for smart phones thus it is user friendly, easily navigable and informative within reach of the customer. It is an important tactic, if these tricks are not taken into consideration while developing an app then it will attract negative reviews of the customer.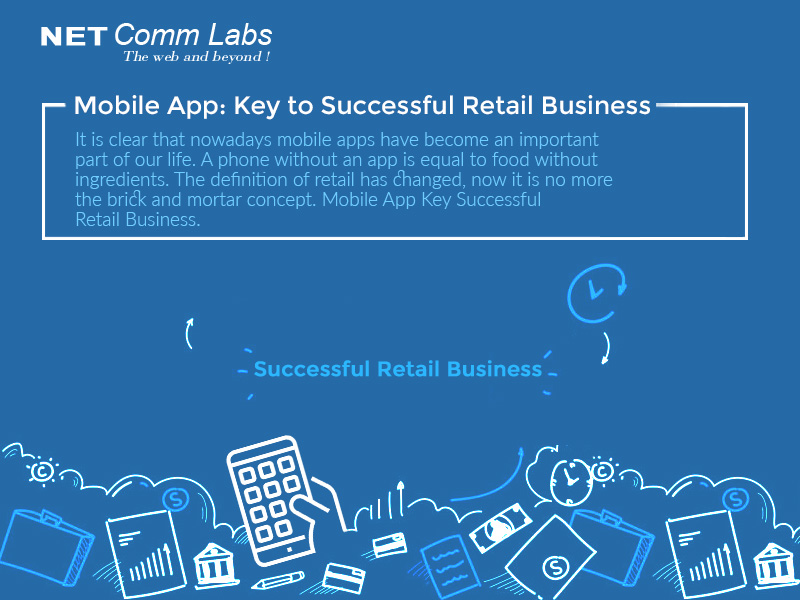 Mobile app development company in Delhi deploy latest technology for retail apps to stay relevant in the business. Be a customer yourself and think, what facilities would you want in an app without visiting a store so that you could have a comfortable experience? This can be achieved through an in-store mode feature where the ability to add items on a cart or a shopping bag, compare prices, scan bar-codes, etc, helps consumer to stay on budget. This feature also lets customers to visit application store twice than the regular visit.
The geo-location technology navigates customers to the nearest location of the store. This technology also lets the customer to know the timings, offers and discounts available in the store or with the product. The geo target mobile alerts gives custom offering in a push notification form to its customers who are at a near proximity of the store. This helps to build relationship with the customers and collect information. Android development in noida helps in the easy implementation of functions through various APIs.
Involvement of customer loyalty programs into mobile app development is a trending idea. Mobile app development company on Noida is focusing on this method to boost the installation of the apps and to foster the customer engagement.