Mobile phones have been in the trends since its inception. In today's scenario it has become our daily need. Starting from waking up in the morning till going to bed at night, it is always there with us like an assistant. The Mobile app development trends has increased with the increasing number of mobile phone users. Mobile app development company in Delhi is bringing new designs and techniques to woo the customers and this trend of updating technology is  taking place all over the world.
The demand for app developers have increased and is still rising with the Mobile application development company in Noida. With the completion of year 2018 and arrival of new year, let's take a look what the mobile app development market has achieved so far. There were Top Mobile app development trends of 2018.
The cloud application
The cloud technology has been topping the list since last few years and has let the developers make make apps that would have cloud as a storage platform. Mobile phones have become a mini laptop for people, from booking tickets to filling form to downloading files related to work, it is being used for every field. Storage and space becoming the challenge, Mobile app development company in Delhi/Ncr are going for cloud integration of mobile apps that require less memory and will allow data to download from and upload to the cloud.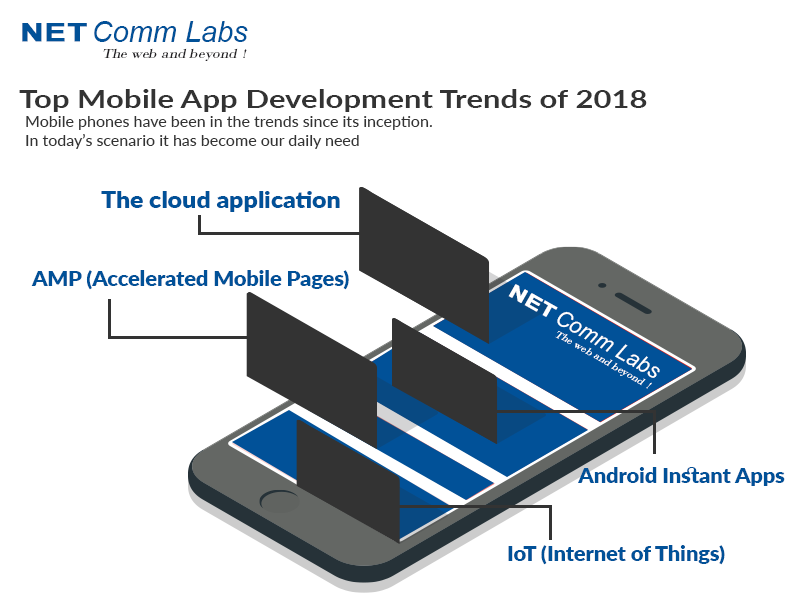 AMP (Accelerated Mobile Pages)
In this fast paced environment speed matters a lot. With no time to spare, people want apps that are fast and responsive. Google's AMP is an add on to the list where it speeds up the loading process of a page. AMP is an open source Google project designed to accelerate the speed of mobile pages, giving smooth and engaging experience to the users. Mobile app development company in Noida is making use of AMPs to create web pages that are fast, compelling and smooth with enhanced page loading to achieve reduced bounce rate, high performance across different devices, page rank, etc. for the website. Improved visibility on the search engine to gain more traffic is achieved through AMP.
Android Instant Apps
Android instant app allows the user to use the app without actually installing it. These apps look and operate like any other app installed on our phone. Installation of an app from play store is time consuming and space occupying, thus Instant apps allows the android users to test and try the app before installing or buying it. These are like native apps that function similar to the website. Instant apps can be modularized for the users to load only the segment of an app that is required to them when in need.
IoT (Internet of Things)
IoT is a network of things that allows the exchange and collection of data without human interaction. The non-IT devices or things can be monitored through automation, apps or remote control. Such a feature has led the mobile app developers to opt and develop the best in market apps for customers.