With the spread of pandemic across the world and various governments implementing lockdown in a large no.s of countries, has resulted in many people working from home in Lockdown period.  The trend of remote working has been on the rise for years in many companies. Some offer remote work as a benefit to employees for a better quality of life which gives the ability to manage your workload alongside family commitments. Today, millions of people around the world have recently started working from home (WFH) because of the COVID-19 coronavirus outbreak.
Most of us have worked our entire lives in structured office environments, providing a clear separation between work and home life, but for many people, the main change has been the shift to  WFH mode and to deal with the various distractions and challenges that come with a significantly altered routine.
To help you adjust to your work from home strategy, we have put together a list of key tips for establishing a productive remote work routine and can make work from home a little easier: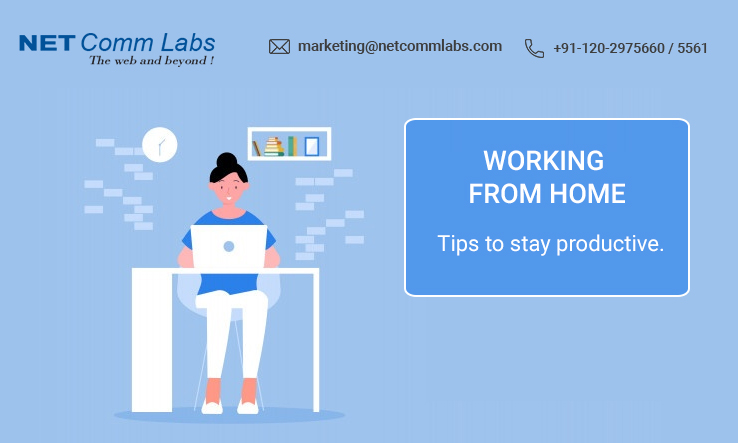 1) Build an ideal Work Space at your home
Setting up a working spot can be crucial to your productivity  This could be an empty or spare bedroom that you convert to a home office. Regardless of space or location, establish an area in your home where you will work, and commit to working in this space EVERDAY. Be sure your workspace is quiet and has enough natural light so you can focus on the task at hand.
2) Set Real Work Hours
Now that you have your work area set up, it's time to get down on your job. If you are going to make working from home an everyday commitment, then set specific work hours. Check the calendar every morning and plan your tasks by writing it down. Regardless of your schedule, be sure to set work hours to follow every day. Communicate your work schedule to co-workers, teams, and your boss.
3) Discover Your High Productivity Periods
Every individual is most productive at different times of the day. For example, some individuals are usually more productive and focused during the morning hours. For others, their most productive time in the workday is during the evenings. Discover your most productive time of the day and build your work schedule around your peak productivity periods.
4) Develop a Morning Routine
Working from home has advantages of not having to get up, rush out of the house, and commute to an office.
However, working from home does not mean to skip your morning routine altogether. Since you'll likely be cooped up indoors, do some exercise or meditate to stay fit. Rising up on time, taking a shower, having breakfast and preparing meals, just like you have to leave the house helps set the tone for the day.
5) Update Your To-Do List Every Mornings
When working from home, it can be challenging to keep track of what you have to do throughout your workday when you don't have a boss breathing down your neck it is easy to lose sight of priorities and deadlines. Start your day by reviewing priorities for the day.
Set goals and time limits for each task. After you complete the task, cross it off the list. This simple technique is both effective and fulfilling.
6)Learn to communicate effectively
Video chat is a great way to stay connected virtually to meet with team and colleagues. When you collaborate online through chats, Email or video calls things to change as you need to communicate efficiently with your team. Don't be afraid to ask if you need additional clarifications.
7) Set Multiple Alarms
Even if you don't have to wake up as early to leave for the office, you should still set an alarm to commit to waking up at the same time. This will prevent you from sleeping in too late and will help you maintain a healthy sleep schedule. Consider adding an alarm for lunch don't skip lunchtime as it is a good way to disconnect from work and wind down. Following a strict routine and setting specific work hours keeps you focused, alert, and more productive.
8) Don't forget to Log Off
Turn off your devices and pause your online system as working from home can give you the false impression that sitting at your work space for an extra hour can help you complete the task at hand or a brilliant idea will magically pop in. Learn something new or take some time to engage in-home activities.
Hopefully these tips will help you maximize your time working out of the office and in spite of all the lockdown, remember it's good to laugh a little with your family, relax and have a little fun.