Rapid technological advancement influences Mobile App UI design trends every year. Web and Mobile technology are evolving fast. Hence designers need to be aware of the existing and upcoming design trends and constantly learn, expand their design toolkit to be up to date on the current market scenario. Let's get to know the upcoming UI/UX design trends to watch out in 2020: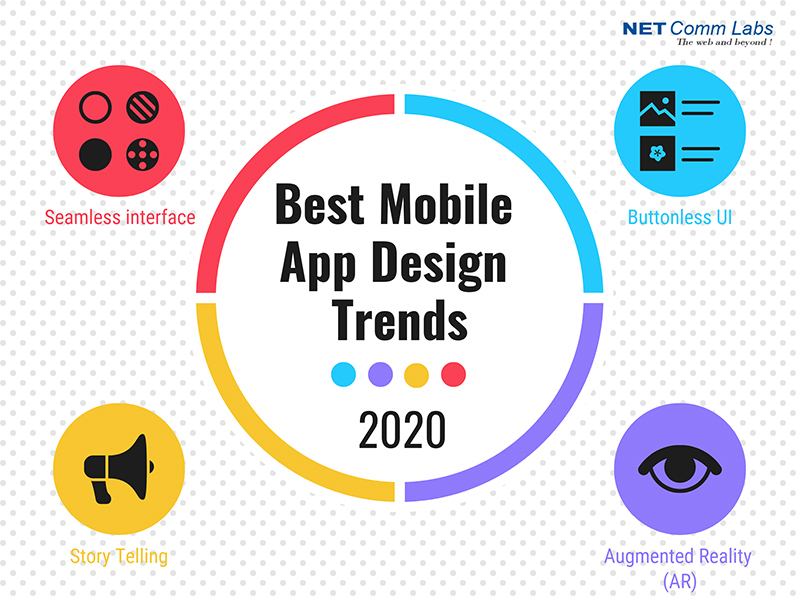 Animated Illustrations
The evolution of illustrations in the last few years is quite impressive. Illustrations are popular design elements that add natural feel and human touch to the overall UX of the products. They are very strong attention grabbers. Applying motion to these illustrations brings products to life and makes them stand out by adding extra details and personality. Animations also capture user's attention and make users engage with the product, brand or services.
Microinteractions
Microinteractions exist on every website or app. Attention to them might greatly improve the overall user experience of your digital products and place them on the next higher level. Eg. Facebook has different micro-interactions- the "like" feature is the perfect example. Removing them from the product will be noticed very quickly that something really important is missing. Every year, new devices bring new opportunities for creating brand new and innovative micro-interactions. 2020 wouldn't be an exception for sure.
3D Graphic in Web & Mobile UI
The 3D graphic has improved and evolved dramatically. New web browser capabilities have allowed the designers to create and integrate amazing 3D graphics into modern web and mobile interfaces. For instance, 3D graphics renders could be viewed in the 360-degree presentation which improves the overall UX of the product. This requires some specific skills and loads of work, but very often the results are rewarding.
Convenient Voice Interaction
Voice-powered applications are continuously surrounding our lives as they deliver fast and precise query results, are more feasible, and make sure tailored user experience. Siri, the voice-controlled personal assistance of Apple, Alexa for Amazon command their terms to UX design trends.
AR/VR
Applying augmented reality and virtual technology enables integrating the fictional digital components into the real-world image by providing users a brand new appearance at their daily regime. Mobile App Development Company in Noida is using the latest trends and technology while designing and developing a mobile app. One of the major trends in 2020 will be UI design for AR. In UI/UX design sometimes even small and subtle change might make a huge impact.