A lot of brands might think that they have cracked the code to get a perfectly curated website, however in today's time everything changes in a blink of an eye. There are plenty of trends and fads that keep changing from time to time and it's essential to modify your website as per them. If you are searching for a reliable company that can help you with website creation or updation then you can contact Netcomm Labs which is a leading website development company in Noida, Delhi and India.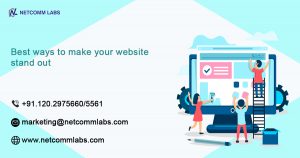 Here are the proven tips
Aesthetically appealing template
Your website template is the pillar of your website and ensuring it is crafted well and resonates with your brand persona is essential. You should surely contact the best website development company in Delhi NCR & India for getting a customized template made
Provide examples & metrics of your work
When customers visit your website they keenly search that how much value you can deliver to them. You can keep a corner on the homepage to let them know about the clients you have worked for in the past and their reviews. For this, you can reach out to one of the top mobile app development companies in Delhi NCR & India
Narrate your story 
This is the part of your website where you can get the most creative. Make sure to write down your real journey and why you are here. People look forward to relating with the brand and by narrating your story your brand will look more relatable
Fresh content
Your website should be updated regularly with SEO-rich content. Creating relevant, informative content with the right keywords will help Google to crawl your website faster. For this, you can take the help of top website company in Noida & India
Dark mode and light mode
You would have surely come to know about the popularity of dark mode. A lot of people prefer dark mode over light mode these days and if your website helps them to choose between both as per their convenience then what's better than that?
All these simple tips will help you to stand out from the competition. If you haven't already planned out how your website will look then you should get a 1:1 consultation from the best website development company in Noida & India.