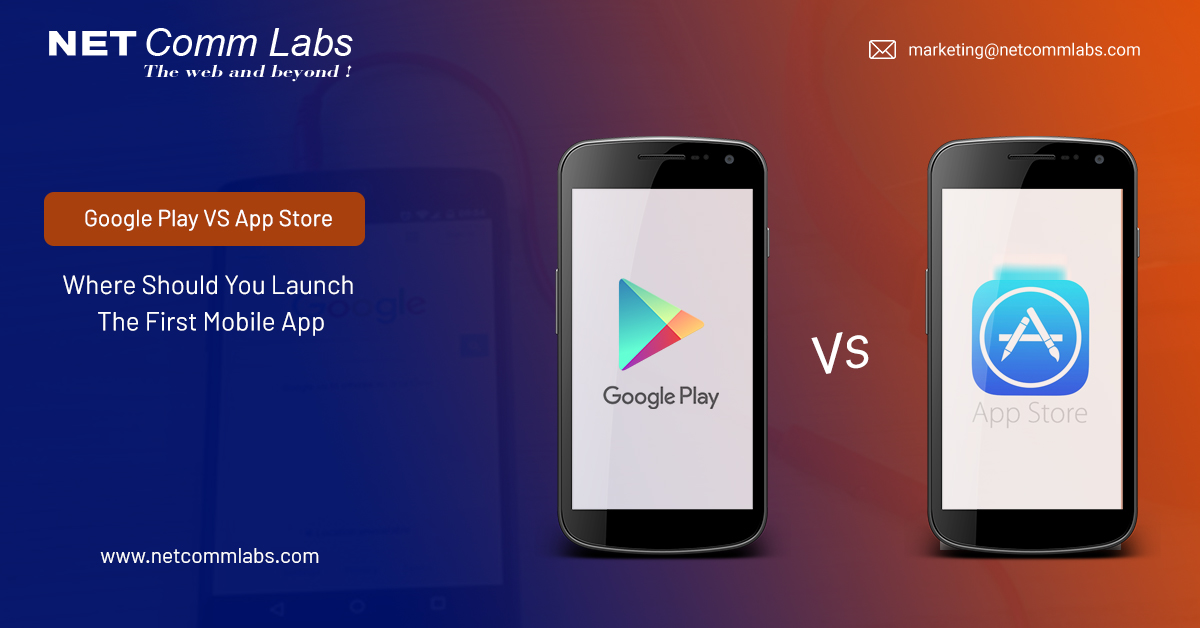 The moment you decide to develop an application for your business, you will immediately land in the never-ending controversy, for which platform you should build your first mobile app. Whether you choose to develop your first app for Android or iOS ie Google play store VS App store, you should keep in mind that the success of your app depends upon the downloads. Even the best apps will fail if there are no downloads.
While deciding the best platform to submit your application, you will need -the time for proper research. There are primarily two platforms where the majority of users are downloading apps. Users with IOS devices can download applications from the Apple App Store, whereas Android users can download from Google Play Store. Before taking a decision to launch your app on the Google Play Store, it is worth understanding some factors that will help you choose between Google Play VS App Store
1) Understanding Your Audience
When choosing the best platform for your application, it is essential to know your market.  Before you hire the App Developer, make sure your app development concept suits well with the parameters of the Android or iOS market. This can be typically broken into further three parameters.
Geo location– Whether you want to target a global audience or a particular area over the map. If you aim for the global market, then clearly the Google Play Store is the best option as it dominates the global market where iOS doesn't even stand in the competition.
Age Factor– According to a survey, users with iOS devices are younger and higher educated people in age ranging from 18 to 25 years. So if you are launching an app like dating apps, social networking app, iOS can be an excellent platform.
Gender- Since the iOS app interface is more comfortable and faster than Android, it is thus mostly preferred by females. So if you plan to launch a cooking app or workout app, then it would be an excellent option to launch on Apple's App Store.
2) App Monetization
When comparing the Android apps with iOS apps, to see the monetization difference, it has been observed that iOS App users are likely to pay for apps. But when it comes to "Utility Apps" like fitness apps, calculators,music-making apps, then Google Play Store takes the momentum. Whether you are trying to monetize your app with subscriptions, in-app purchases, or with in-app ads, no platform can defeat Apple's app store. However, since Android apps are expanding,  Google Play Store can overtake the App Store in terms of app monetization. But If your primary goal is to earn money,  Apple's App Store generates twice as revenue generated by Google Play Store.
3) The complexity of the App
The development of an app for Android is more complicated than iOS as developers need to make sure they are compatible with the platform, and there are no crash issues and bugs while running even on the older operating systems.
It has been observed that Apple users prefer to spend a high amount on apps and devices than Android devices. iOS users want to access the latest version of the software to enjoy a hassle-free user experience. Comparatively Android users are slower to adopt the latest releases on operating systems.
4) App Maintenance Cost –
Since iOS apps require frequent updations in the app, therefore, the app maintenance cost will be higher compared to Android apps. You need to hire an app developer to make sure your app is bug-free and compatible enough to run on old operating systems without any crash issues on the Android platform and an iOS developer will have to make frequent changes in the app to make it compatible with the new version of operating systems.
5) The popularity of the OS
Both the operating Platforms (OP) have different markets. Apple devices are known for their high performing apps which are completely secured with the closed ecosystem, thus, iOS apps have become the first choice of the corporate sector.
While, Android apps are free to install and easily accessible on multiple devices thus dominating the global market share.
The choice of the OS depends on the type of app, if you are targeting a corporate sector, then it is worth launching on Apple's App Store, and utility apps are best to start on Google Play Store.
There exists no guide or definitive answer to which platform is better to launch your first app as every business has its own unique needs and goals that favor one or the other. However fantastic your app development idea is or features your application is offering, to achieve success it is essential to choose the right operating platform to launch your app. You should seek out the services of a Mobile App Development Company to design an app that can help you reach your targeted audience and allow you to maximize revenue.